DN WM300 Laser Welding Machine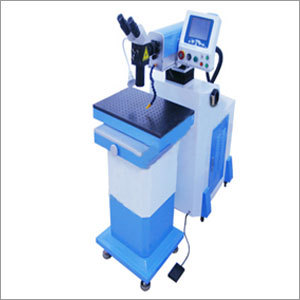 DN WM300 Laser Welding Machine
Product Description
Working principle: Heat created by highly concentrated and focused laser will melt the welding wires instantly together with the broken part on the mould. The welded part can be smoothened by electric sparking or grinding. Trachoma, crack, broken corner or edge can be quickly and nicely repaired.
Applications: Suitable for welding or repairing on various of mould steel (8407, 2344, H13, 718, NAK80, S136, SKD11, P20. etc). Be-copper, red copper. Also applied widely to precise metal parts processing.
Advantages: *Unique design to ensure 360degree rotating of the laser generator or head, and moving in all directions. *Ceramics gathering cavity imported from Britain to guarantee higher electro-optic conversion efficiency, and more high-temp and corrosion resistant, longer life.
*Smaller welding spot and heat effect will not cause distortion on the object. *Small welding spot diameter, less heat effect and no deformation of the work piece phenomenon.
*No bubble, no collapsing, no cracking, and weakening on the object. *No warm-up needed, melting deeply and thoroughly to make sure steady welding and smoothness after processing.
Technology

Laser working media

ND:YAG

Wave length

1064mm

Min.spot

0.2mm

Min.melting spot

0.1mm

welding depth

<=2.5mm

Pulse width

0.1ms-20ms

Pluse frequency

1- 50HZ

Power controlling system

SCM

Monitoring device

Microscope

Optional Positioning device

CCD

Max. working area

300x200x300

(LxWxH outer size): 620x620x910

Main parts: 1250x900x1260

Cooling system: 720x450x580