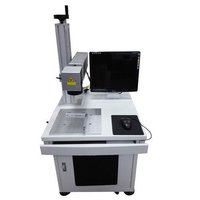 Laser Marking System
Product Description
To cater to the latest demands of different domestic markets, our firm is offering Laser Marking System. It is widely used in different industries for marking various end products. We offer this system in different specifications and configurations so as to meet the diversified requirements of our clients. Offered system is acclaimed by clients for its compact design, high efficiency, low maintenance, prolonged functional life and easy installation. Furthermore, we check our Laser Marking System on different quality parameters with the help of our well-trained quality controllers to ensure its flawlessness.

StellarMark-I-10

StellarMark I-10 Laser Marker achieves a comprehensive solution to satisfy customers with the diverse requirements. Feature with easy to install and operate simplified maintenance, comprehensive safety considerations and providing superior output quality in the meantime.

Features:

Superior Output Performance: Benefiting from the state-of-the-art design, StellarMark I-10 makes you stand out from the competition by increasing productivity and providing superior output quality. The perfect TEM00 beam mode brings in high precision marking results and 2% stable laser output maintains constant marking quality. In the meantime, Stellar Mark I-10 Laser Marker provides higher productivity with new active medium of Nd: YVO4
Easy Focus: The innovative and patented focus tools Pyramid Ruler is an accessory unit that helps you to quickly and easily to get the best working distance for different materials
Compact Size: The compact design of Stellar Mark I-10 can be easily installed occupies minimal space in the existing or new production line
SmartPositionTM: Variable-speed, red dot pointer "preview" mode allows for accurate and easy marking positioning on the marked part
Cost-Saving Solution: The state-of-the-art design enables laser diode to achieve a longer lifetime than before. Laser diode is consumed only when the laser is actual firing. The longer time laser diode can last, the less money will be spent on replacement
E-Stop Button: The emergency stop button allows you to quickly shut down the laser in any emergency that brings you the highest levels of safety
CE Certification: StellarMark I-Series is marked with "CE marking" which ensuring equipment complies with the essential safety requirements set out in European Directives
Error Indications: Error message appears when the laser marker works incorrectly. So operators can be informed by the message and to solve the problem immediately
Secure Password Protection: Three-tier password security system restricts unauthorized access to the production line
Recall and Resume Function: Enable the interrupted jobs being recalled and resumed immediately to prevent any power or production line interruption
Compatible with Laptop or PC: StellarMark laser marker is able to flexible connect with either desktop PC or notebook
Specification:

Model

I-10

I-10 070

I-10 110

I-10 180

Laser Source
Wavelength

1064 nm

Type

Nd:YVO4, Q-Switched

Output Power

CW 10W

Peak Power

50 KW @ 10 KHz

Beam Mode

TEM00

Frequency

1~100 KHz

Cooling

Air-Cooled (No water chiller necessary)

Scan head
Lens (Focal length)

100mm

160mm

254mm

Working Area

70x70mm

110x110mm

180x180mm






30



Electrical Requirement

220V, 50-60 Hz

Dimensions

Laser head

L 600xW 200xH 200 mm

Control unit

L 660xW 250xH 475 mm

Operating system

Win 2000/XP ( Desktop or Laptop PCs )

Environment
Temperature

15'°C ~ 35'°C

Humidity

10 ~ 80% Non condensing

Safety

Class 4
(Class 3R available with safety shield)
Above specifications are subject to change without further notices.