Co2 Laser Marking Machine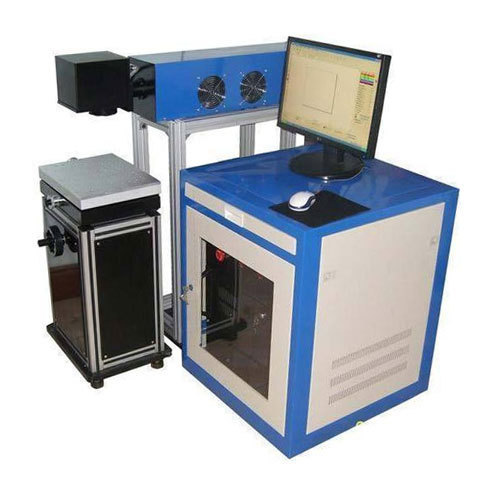 Co2 Laser Marking Machine
Product Description
We are manufacturer & suppliers of Laser Marking Machines, Co2 Laser Marking Machines, Co2 Laser Marker from Delhi, India. We are manufacturing and supplying Laser Marking Machines, Co2 Laser Marking Machines, Co2 Laser Marker to various cities like, Ghaziabad, Noida, Greater Noida, Faridabad, Delhi, New Delhi, Sonipat, Panipat, Jaipur, Neemrana, Ambala, Pontasahib, Jammu, Agra, kanpur, Lucknow, Gorakhpur, Ranchi, Patna, Rohtak, Jhansi, Dehradun, Haridwar, Moradabad, Meerut etc.
Rather than displacing metal, the Co2 Laser Marking Machine removes a little quantity of it. When marking hollow, thin, or highly polished things, this avoids the possibility of bruising, scratching, or deformation. A laser is a device that generates a single-color, amplified light source. This machine is very effective and great to use. The Co2 Laser Marking Machine is simple to operate and manage. The hallmarking, branding, and marking laser marker has a very small beam diameter, even less than 30 microns, yet a very high peak power.
Product Details:
Maximum output Power 30-100W
Laser Source Co2, sealed -off
Working Area 70mm*70mm, 300mm*300mm
Laser Wavelength 10.64mu
Power Consumption 1.2-4.4kW
Application Electronic components, craftwork gifts, leather, shell nameplate, rubber product, garment accessories
Frequently Asked Questions
1. With a CO2 laser, what cannot be cut?
Ans - Materials you should not use a laser to process
Chrome-containing leather and synthetic leather (VI)
The carbon fibres (Carbon)
Vinyl chloride polymer (PVC)
Vinyl butyral polymer (PVB)
Teflon and Polytetrafluoroethylene (PTFE)
Oxygenated beryllium
2. What operating temperature is ideal for a CO2 laser?
Ans - 59 degrees Fahrenheit to 77 degrees Fahrenheit.
CO2 Laser Optimal Temperatures
The majority of industrial CO2 lasers can operate effectively and safely between 59 and 77 degrees Fahrenheit.
3. What is the CO2 lasers efficiency?
Ans - The overall efficiency of CO2 lasers ranges from around 5% to 20%, and the output power can range from hundreds of milliwatts to hundreds of kilowatts, depending on the design.